Cherry Chimes Round III: Interview with Bournemouth blogger Peter Bell
Welcome back to JWAW TV! After the break, a Bournemouth match preview with Peter Bell of Cherry Chimes. But first, a word from our sponsor…
(Wait, what do you mean they terminated the contract? Nooo… I'm finished!)
Ahem. Well, there seem to be some technical problems with our commercials, so just pretend some guy is selling you toothpaste. Whatever, I don't care any more.
Erm… thank you for that, Mr Anchorman.
JWAW: Welcome back to JWAW Towers, Peter! Since this is your third appearance here, you can take a complimentary item from the box of Wigan stereotypes… but watch out for those pie kebab skewers.
How are things at the Cherry Chimes blog? Whatever's happening, I guess it can only be better than here in this corner of north west England!
PB: It's strange really. I used to be able to have the freedom of the internet to say my little bit without too many ears listening in, but now the slightest bit of news that is a bit of an insight on the team is picked up very fast and suddenly the national newspapers are taking much greater interest in our seaside club. I fancy that the days of AFC Bournemouth surprising other clubs are well and truly over. We have arrived, but I still can't work out how it has happened so fast. Still, like all fans I am just trying to enjoy the good times while they last. I mean really – AFCB v Liverpool, Aston Villa and Real Madrid – what is the world coming to?
I know! It's almost as crazy as Wigan Athletic winning the FA Cup. Almost.
As league leaders, you have been in the fantastic position of not having to do much business in the January transfer window. Do you have a little nest egg stored away in case the Premier League calls come May 2015, or is that something you prefer not think about at this stage?
Ha, the fact that AFCB did not spend big bucks in the January window has worried a few supporters when we see the likes of Darren Bent going to Derby Co. I am not sure about a nest egg, but Eddie Howe has been quoted as saying AFCB are not exempt from paying big fees for players so we know that there is money in owner Maxim Demin's pockets. The club has also made big bids for Demaria Gray at Birmingham City, even if it was not enough to trigger a release clause.
I don't expect AFCB to spend, spend, spend if they do go up. It is just not the way the club does things, even if other clubs think the Cherries have bought success. Only two of the players we have are believed to have cost more than £2m – Tokelo Rantie and Callum Wilson – and most of them have come from League One and Two and Harry Arter for one was signed from non-league Woking FC. I think capacity improvements at the stadium would be the first consideration that the club will need to spend some money on.
Yes, I was wondering about that. I seem to remember Burnley had problems getting their ground up to scratch in time for the Premier League season a few years back.
Ah, go on – I'm going to ask this. Do you think you can do it? Will the guys you have at the moment take you all the way to the highest level this season, and what would it mean to you?
It's not a question I want to think about too much. You'll have me looking at the table and getting my calculator out with the fixtures out and trying to work out who will catch us. Tempting fate is not what I want to do, but last November I did put a £5 bet on and every week I keep telling myself it might not have been the best of investments.
I am surprised that other teams have not profited more when AFCB have slipped up, but I also see that no other team has won as many games in a row as us in the Championship which gives me confidence. I think the defeats against Leeds and Norwich have stopped the dreaming now and the players know that turning up is not enough in this league. They have to be at their very best every week if they are to achieve promotion and I believe it is now really important that they do win promotion. If they fail, I can see the team being torn apart in the summer and that would be hard to see happen. I am sure you can equate with that after what has happened at Wigan.
Sorry to have you daydreaming there, and hopefully the small time internet blogger's curse won't set in! Goodness knows it has struck me down on many an occasion.
And now, an intermission.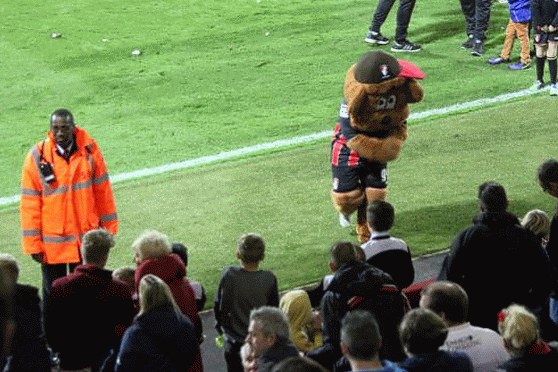 We now return to your regularly scheduled programming.
Bringing us back to the immediate future, for goodness sake, please tell us how on earth it feels to score a goal! I have seen these mythical events on televisual broadcasts and can only imagine what it's like. You have scored more than twice as many as Wigan Athletic this season. Have you any advice for… well, whomever we field as a striker on Saturday?
What a good question. It has been known that AFCB do let in a few goals and that we have not got the tightest of defences in the league. Our wing backs push up on countless occasions and if your wingers can put in some good crosses your strikers may get some joy. Set-pieces have been a problem in early season, but Artur Boruc has made this slightly less of a weakness. To beat AFCB, Wigan have to press high up the field and not get caught out themselves at the back. Give AFCB room to play and you'll be punished. This team has learnt how to be patient and can string 30 or more passes together before making a decisive move on goal.
If I was a Wigan striker, I would shoot early and from anywhere in shooting range, as our players get in a lot of blocks and you never know where a deflected shot will go. If you don't shoot, you don't score – simple as that! And so many teams that we have played against have not even managed a shot on target against AFCB in 90 minutes – surely Wigan are better than that?
(JWAW: Well, you say that in jest, but…)
The worrying part for Wigan is that AFCB play better away from home. The expectant crowd at home does not really lift the team as well as 500-1000 away supporters willing them on in a big stadium – sorry about that!
High pressing? Uh oh, looks like we need Uwe Rosler back, and quick!
At the risk of getting an obvious answer, which of your number should we be wary of this weekend? Exactly who should Leon Barnett be cleaning out before it's too late?
The problem is every one of the outfield starting players for AFCB has scored this season for AFCB. If you mark Callum Wilson too tightly and leave room in behind, he'll do you for pace. If you keep him quiet, it usually gives space for master marksman Matt Ritchie, who feeds off anything loose in and around the box. Marc Pugh has a habit of sneaking in on the blind side, with headers and volleys and Harry Arter just shoots at goal whenever he feels like having a go! If you give away a penalty, Yann Kermorgant and Brett Pitman will like the chance to add to their goal totals and even Steve Cook and Tommy Elphick like to make a nuisance of themselves in the opposition's box when AFCB win corners. There is some hope for teams though – I don't think Artur Boruc has scored yet, but you never know!
Well, Saturday could be the day!
OK, I'm going to ask for a prediction for Saturday but only because tradition dictates that I do so. I already know what you're going to say and I would most likely wholeheartedly agree with you…
If you had asked me before knowing how we would play against Watford I would say this is the kind of game where AFCB will be given a reality check. As it is I still predict a hard game and nothing like what we have seen at Birmingham and Blackpool you'll be pleased to hear. I think AFCB will be pleased if they can come away with a 0-1 win as Wigan were very organised against Ipswich and I believe they are improving. Wigan have also only been losing games by the odd goal, and if your luck changes against us and you do win, I believe your keeper will have been man of the match. I hope that does not sound too big headed, but Wigan have to defend well to get a win just like Leeds did against us and they had a bit of luck too. It is of course always possible that AFCB have an off day. It happens occasionally although not usually for the whole 90 minutes.
Thank you once again for appearing on the Jesus Was a Wiganer blog, Peter! I feel awful for being so big-headed in previous seasons' incarnations of this pre-match interview, but it's only now we're back in the pack I have this moment of clarity.
All pictures in this post (c)Peter Bell of Cherry Chimes.
Can I just say one final thing?
Absolutely!
It is always a pleasure to chat with you like this. I think AFCB fans have a big affinity with Wigan Athletic and wish you the best of luck in staying up. Hopefully, you might also do us a favour or two on your way to doing that.
Oh, and it's been a pleasure speaking to you, too. I've been watching Bournemouth's progress over the last few years, and it's been great to keep up to date with these little interview features. I really do hope you can do it, and look forward to Manchester United versus Bournemouth next season!
Before I go…
Don't forget to bookmark Pete's Cherry Chimes blog to see a certain small time internet blogger (raises hand) talk about Wigan Athletic in an annoyingly sardonic fashion.